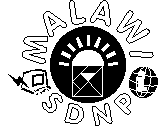 A
LICENSED
INTERNET SERVICE PROVIDER
IN
MALAWI
SERVICES AND CHARGES
Revised: 17 May 2006
ADDRESS: MALAWI SDNP COORDINATOR,
P.O. BOX 31762, CHICHIRI,
BLANTYRE 3, MALAWI


PHYSICAL: ROOM 51, POLYTECHNIC
TELEPHONE: +265-(0)-1-874979 / 1-875872 / 8-824787
FAX: +265-(0)-1-873944
E-MAIL: mwsdnp@sdnp.org.mw
WEB: http://www.sdnp.org.mw
,MW: http://www.registrar.mw
DIAL-IN(BT): +265-(0)-1-874900 & ACCESS INTERNET
DIAL-IN(LL): +265-(0)-1-752900 & ACCESS INTERNET
DIAL-IN(MZ): +265-(0)-(1)-331900 & ACCESS INTERNET

___________________________________________________
Malawi SDNP is a UNDP supported Malawi Government Programme executed by the National Research Council of Malawi to assist with development of Internet and information services with emphasis on sustainable development.
THE MALAWI SUSTAINABLE DEVELOPMENT NETWORK PROGRAMME
The Internet is the fastest growing information medium that allows you to communicate with coleagues worldwide via e-mail and to access and publish information on every conceivable topic through the Web. Malawi SDNP now offers you connections to the Internet and so to improve your efficiency and visibility. The Malawi SDNP Internet services are divided into the following cartegorisies:
Installations ¨ Maintenance
Dial-in Access ¨ E-Mail Services
Discussion List ¨ Web Services
Domains ¨ Name Services
Databases ¨ Public Information Services
Leased/Wireless ¨ Full Internet Services
Training ¨ Gateway Service
This leaflet presents information on these services and the charges that apply to them.For more information, see the SDNP website listed here

To request a Malawi SDNP service, complete the subscription form provided with this leaflet and mail or fax it to the Malawi SDNP Coordinator.

BILLING
Bills for most services will be sent out on a monthly basis by both e-mail and hard copy. These bills are payable within 30 days after the end of the month. We also do offer prepaid services in addition to postpaid services.

All bills will be made out and will be payable in Malawi Kwacha only. The charges for services are quoted in US dollars in this leaflet for stability purposes only. The exchange rate used for the billing will be the ruling UN exchange rate for the month concerned. Such rates are available from the SDNP Coordinator or directly from the UN Coodinator in Malawi.